Are you feeling stressed? Need to take a break? Whether you need a spa day or you're taking a full week-long spacation, the world-class spa at Mohonk will delight you. Here are a few things we've particularly enjoyed at the Spa at Mohonk:
The Moisture Drench Healing Facial. This was 50 minutes of bliss. The Naturopathica products were perfect for my sensitive skin, and the therapist massaged them in perfectly. My skin felt amazing when it was done! She recommended some products for my skin afterward, but there was no pressure.
The Pure Renewal Manicure. After choosing from a nice variety of polishes, I sat down to have my hands and nails soaked, scrubbed, masked, and moisturized. My nails have never looked better, and the polish lasted nearly a week. The curtained pedicure stations looked so inviting that I was almost tempted to add one on, but had to head home shortly afterward.
Spa Amenities. When you book a treatment, you can also spend as much of the day as you wish (between 8am-8pm) enjoying the amenities of the spa. These include a eucalyptus steam room, dry rock sauna, outdoor heated Dead Sea salts mineral pool, specialty tea bar, solarium, and verandas. We have spent many hours enjoying the spa amenities, and we highly recommend it!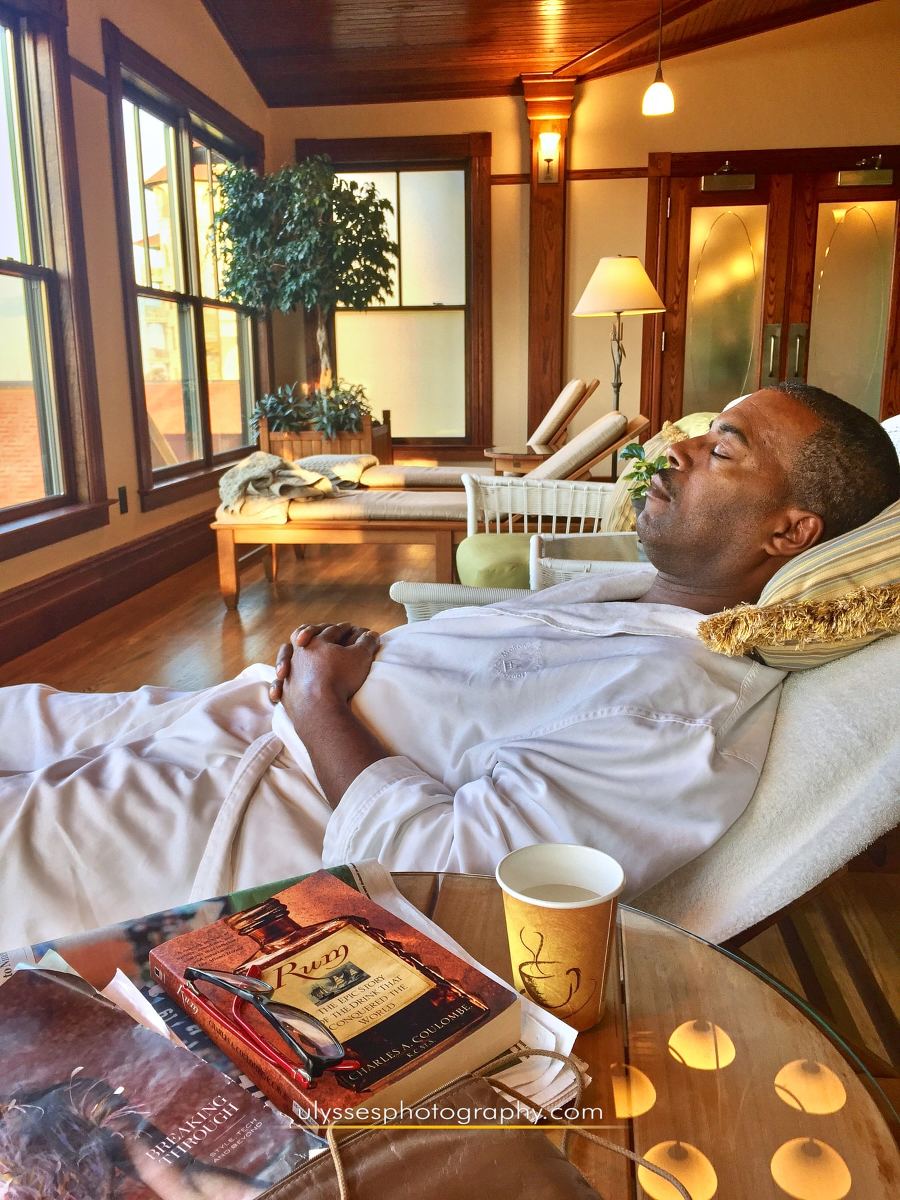 Probably our favorite amenity is the outdoor mineral pool. The path to it is heated, so you can enter even in the middle of winter! The last time we stayed at Mohonk in February, we were in the mineral pool with snowflakes falling on our heads. We can't even describe what a treat it was! It was so soothing to our muscles, which were a bit achy after all the cross-country skiing and snow shoeing we had done over the past few days.
It's a good thing the spa provides thick, warm robes and slippers for getting in and out of the mineral pool! Afterward we dried off in the sauna, and warmed up through-and-through in the steam room. It was the perfect antidote to the winter blues!
The lockers rooms are also well-equipped with private showers and a selection of Mohonk products (lotions, shampoos, etc). Ulysses always enjoys shaving there, as he says they have special products numbered in order, so it's almost like getting a treatment!
A few insider tips:
•  Be sure to check out the specials before booking your appointment. Mohonk often has spa discounts included with your stay, or spa packages available.
•  If you're an overnight guest but not purchasing a spa treatment, you can purchase access to the spa amenities for just $25. That allows you use of the amenities for the entire day, from 8am to 8pm. With so much included, it's a no-brainer for us!
SaveSave
SaveSave
SaveSave
SaveSave
SaveSave
SaveSave
SaveSave
SaveSaveSaveSave
SaveSave
SaveSave
SaveSave