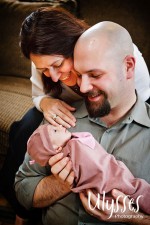 Meridith's parents, Jesyca & Bill, had waited long enough for her arrival. And apparently Meridith wholeheartedly agreed, because she arrived to her welcoming family some four weeks early. She's such a pretty bundle, and everyone who sees her falls head over heels in love with her. It's hard to believe, but here's yet another nearly-newborn who responded extremely well during the session, giving us plenty of expression and definitely paying attention to what was going on – at least until she got sleepy. Just perfect! We had a great time with the entire family.
(Click the photo above to see a larger version.)
Just click the PLAY button below to see a few more of Meridith's photo session:
Click this link to see lots more with Jesyca & Bill!