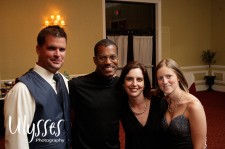 Someone forgot to tell us that when we're pointing our cameras out at our couples and their guests, there will often be a camera or two pointed right back at us! LOL! At Stephanie & Matthew's wedding we had a chance to have spend some time and have some fun with another of our favorite couples, Annie & Jason, whose wedding we photographed last year.
To our great delight, Annie has become quite the camera hound over the course of the past year. She found opportunities to get pictures of Jenni and myself.
Of course, the more excited we were about seeing and shooting one another, the more you could see it in our body language. I tend to get down low to the floor, and you'll probably see a leg go out. Annie stands on her tip-toes, and one of her legs goes up. Here we caught one another at the exact same instant. Too funny! 🙂
I'm not exactly sure, but I think I may also have inspired Jason, who now also finds his best shots by getting down on the floor and finding some fascinating angles. Go Jay!!! I'm so proud. And thanks, Annie, for getting this last shot of myself, Jenni, Steph and Matt together. 😀
In the end, it's all about people and relationships. And we're so glad to know these two awesome couples. Can't wait to see you guys again at Kim & Eric's wedding soon! Get your cameras ready! LOL!
(Click any image to see a larger version. To navigate,
hover mouse over left or right side of a large image and click.)