Autumn at Mohonk Mountain House
Have you ever seen more beautiful, vibrant red leaves? This is just one reason autumn is the perfect time to visit Mohonk, and the perfect time for a Mohonk photo session! This couple really enjoyed their day and made the most of it in several ways, so I will outline them here so you can benefit from their experience!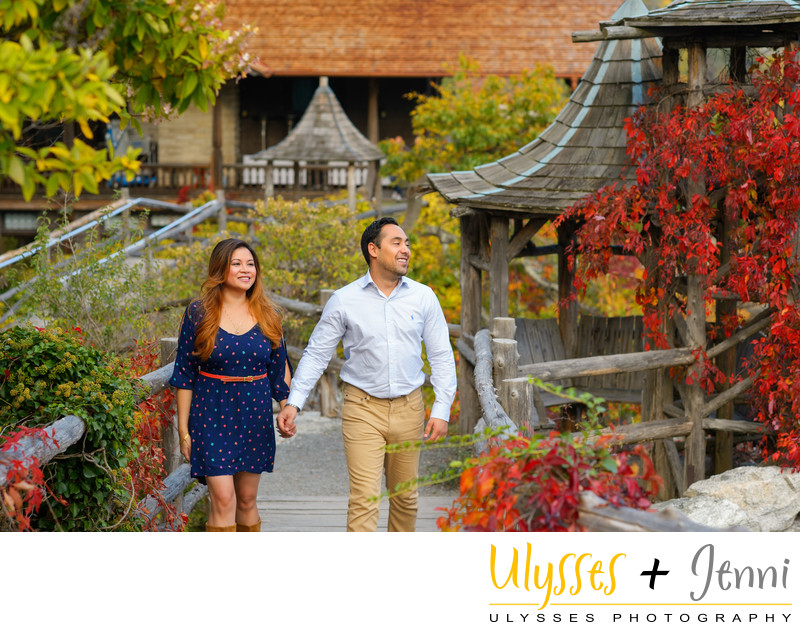 Colorful autumn leaves at Mohonk Mountain House


First, they made reservations for lunch in the Mohonk dining room. So they would be guests of Mohonk for the day, and have full use of the house and grounds. They also arrived early, and used the valet to park their car, so they had a stress-free start to their day.




Bernadette then headed to the Mohonk Spa for professional hair styling and makeup application. We know that many ladies are afraid of makeup, fearing that they will look overdone or unnatural. We want to reassure you that professional makeup can look incredibly natural, yet make such a difference in the look of your photos. When you are outside in the bright light, it can make you look washed out in camera. A great makeup artist can bring out your best features, give your eyes a little bit of pop, and really enhance the look of your engagement photos. A fabulous hair stylist can also help bring out the best in your hair, either smoothing a straight style to prevent fly-aways, or letting your hair's natural texture be the star. Either way, pro is the way to go!




After the spa and enjoying the incredible lunch buffet, it was time for their photo shoot. We met them in the house and then explored the gorgeous property and trails. With the gorgeous reds, yellows, oranges and greens of the autumn leaves, we had tons of backdrops to work with. Here are just some of the vibrant results!

Location: 1000 Mountain Rest Rd, New Paltz, NY 12561.

Keywords: Autumn (35), Bernadette + Bill (5), engagement (95), engagement photos (26), fall (6), lake (8), leaves (9), Mohonk (17), Mohonk Lake (7), Mohonk Mountain House (24), sunset (45).

Copyright © 2019. All images and text protected under the U.S. Copyright Law.