Today's e-session with Melissa & Bill was as much a family session as it was a romantic interlude for their day. They are a very genuine and personable couple, and family is clearly very important to them. They brought their daughter along with them for the session. Though she was initially shy, Jacqueline's energy and enthusiasm won out, and we had a great time with the entire family. Melissa and Bill didn't let the cool rainy weather prevent them from displaying their feelings for one another, and neither did it prevent us from getting fantastic images for them.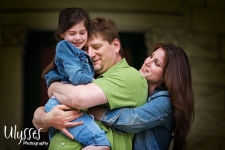 Melissa & Bill, you guys did a really good job today, and you're going to love the results. It's always such a privilege to have this sort of window on a family's love and warmth. We're really looking foward to your wedding. 🙂
We'll have their entire e-session gallery up very soon. You'll find it in the "Client Proofs" section of our main website.
(Click thumbnail for a larger version!)