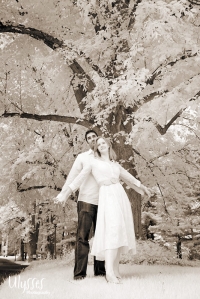 Julie and Swaroop found us several months ago, and we immediately hit it off as if we'd known one another for quite some time. It was important to them that their photographer easily get along with a variety of people, since their families are from cultures as different as the East is from the West. But seeing the two of them together during this photo session not only allowed us to get to know them even better, but it also reaffirmed for us that the diversity of people and cultures is also one of their truest beauties. These two were meant to be together, and their genuine affection for one another was so evident in the photos.
Julie is also a photographer, so their putting so much priority on photography and the time for it is not at all unappreciated by us. We know their wedding at the Lyndhurst Castle is going to be amazing. 🙂
We can't wait for them to see the full gallery of engagement photos, which will be available shortly in the "Client Proofs" area of our main website.