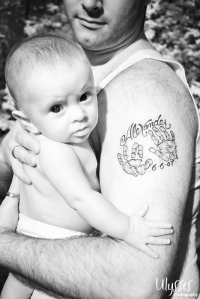 Yesterday was the second portrait session for little Alex, in what will be a series of sessions over his first year of life.
This little guy is a star!! He did exactly what we asked, as if he could totally understand our direction throughout the whole shoot. We got tons of smiles, and we did lots of laughing ourselves! We thoroughly enjoyed watching Jesyca & Bill's delight in their beautiful little boy.
At the end of the session, they mentioned that Bill had a special tattoo created, featuring Alex's actual little handprints. Of course, we had to do something special with that! Right on cue, Alex turned on the intensity… isn't he amazing?
Enjoy this preview – the whole gallery will be available soon in the "Clients Proofs" area of our main site.
(Click image for larger version.)